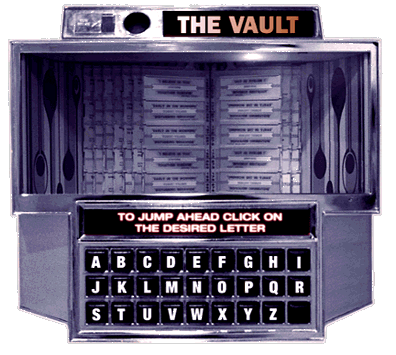 ---
A | B | C | D | E | F | G | H | I | J | K | L | M | N | O | P | Q | R | S | T | U | V | W | X | Y | Z
---
Wherever you see the icon to the left of the title, it signifies a link at the bottom of the song page to hear it in Real Audio.
A
B
C
Cheese On The Chandeliere. This is my out of retirement song.
Chin Chin. Very David Bowieish.
Christmas Again. I've seen more than a few since this was written.

Coleen B the Third. This is my pubescent wet-dream.
D
E
Epitaph. Despite being the same as any other kid when I was growing up I guess this shows that I had a few very serious moments.
Epitaph To Viet Nam.

Short and to the point.
F
G
Goin' To the Seaside. School day ramblings
The Great American Dream. American by name and American by nature
Gypsy Dan God. I must've been about thirteen when I wrote this
H
I
I Call It The Blues. This is oh so very true of my lifestyle at the time even though some of may be somewhat vague.
I'd Crawl Away and Die. My contribution to the sixties druuuuug culture. Hey Dylan. This shoulda bin on Highway 61.
I Got the V.D. Seventies anthem. Nobody would sing along though. I wonder why.

I Just Wanna Be Alone. A one man sing along

I Know I'm Blue/Narcotic Rag/Reading Prison Reel. Influenced by Loudon Wainwright the Third. I was nicknamed Loudon......The Fourth at one point. That was due to my dancing not singing though.
I Lost My Casserole. In the same vein as my other recent offerings

I'm Glad I'm Dead. I did a whole load of kooky stuff in the seventies. This is one such exhibit of kookiness
In My Hometown. Extremely vitriolic
I'm On Suicide. Great rocker. Don't be fooled by the title.
In A While. My version of the events when Margaret Thatcher met Michael Gorbacev on his first trip to Britain. This is probably the only time in history that the Iron Lady has been called "the lady with the enigmatic smile"
Iron Curtain. It's pretty obvious what this is about. Somewhat dated now but it served it's purpose at the time.

I Saw God was written after a gig I did where at the back of the room, sat alone, and saying not a word to anybody was a guy who looked just like the average persons conception of what God would look like: beard, long hair, sandals, the works. And it wasn't until I enquired about him that I learnt that he even had the initials JC. Originally on Shaenea
It Doesn't Matter. Not exactly the happiest song in the world, but where would we be without Bruce Springsteen?
I've Crashed In The Subways Of The Sinners. Real heave druuuug stuff.
Ivor's Got A Kite. Written in Bali 2016 when I decided to come out of artistic hibernation.
J
K
Kid. All about Johnny Rotten and the infamous Sex Pistols boat trip up the Thames

Kilroy. Famed for his writings on toilet walls.

Kit Bag Blues. Its over fifty years since I've played this.

Knock Knock. Ronnie Biggs. This one's for you.
L
M
Magic Carpet Ride. Oh boy. I think I must've been dropping too much acid when I wrote this.
Make Sure My Mother Goes First. This is heavy stuff.
Marti. What a body. What a lady.
Miami Girls. Lyrically insignificant but a nifty little number all the same

The Mimico Ball. Mimico is a place in Toronto. I wrote this while I was there in 1973.

Mother Theresa. This was written before she was canonised.
N
O
P
Q
R
S
T
'Tain No Use In Dreamin'. I still like this even though it's over twenty years old.
Take Me To The Temple. For an ex lover. Her family name was Temple.

Ten Days Inside A Cooler. Nothing special about this.

Ten Wheel Drive. An excuse to show off on harmonica.
Ten Years Of Loneliness. Late sixties.
That's All. Some friends and I had journeyed to the south of England for the first U.K. performance of the Detroit band MC5. On route we were propositioned to make love in a bar with all the clientele watching. We declined but did what we did with them on the subway with everyone watching instead. The song is as crazy as the story.
The Fool Who Wasn't Satisfied. This is my futuristic dream. Or is it?
The Ones Who Say Nothing Starve To Death Every Day. . Oh boy. Real angry stuff this.
The Prince and Lady Midnight. Modern day romance. My version of the events between Charles and Diana.
Thinking. This took about two minutes to write. Very spontaneous.
This Life's Too Big. So is the title. A love song to the Nth degree.
Too Young To Worry Too Old To Care. I love this title. Put it on my headstone. This song is an epic in every conceivable way.
Trick Of The Mind.

And yet even another song about my time in Rio with Ronnie.

True Before Dark

Twenty Four Hours. Straight out of the papers. The only thing that's changed is the story.

Twenty-Two Blues. I played so much harmonica in the days when I wrote this.

Two Legged Chair. Written as a part of my childrens educational series.
U
V
V C Drinker. Very true and the last I heard Corporal Jones was still alive. That was when I wrote the song though and nobody lasts forever.
W
X
Y
You Can't Win Anyway. Up tempo. Yeh yeh yeh.
You Come Inside Me Despite it's title, this has little, if anything to do with sex. This is my tribute to Janis Joplin Hence the references to Pearl, Tell Mama, Cry Baby etc.
You Loved Me All The Same. Another love song.
Z
---
A | B | C | D | E | F | G | H | I | J | K | L | M | N | O | P | Q | R | S | T | U | V | W | X | Y | Z
---
This page was brought to you by Dave Keats January 2007