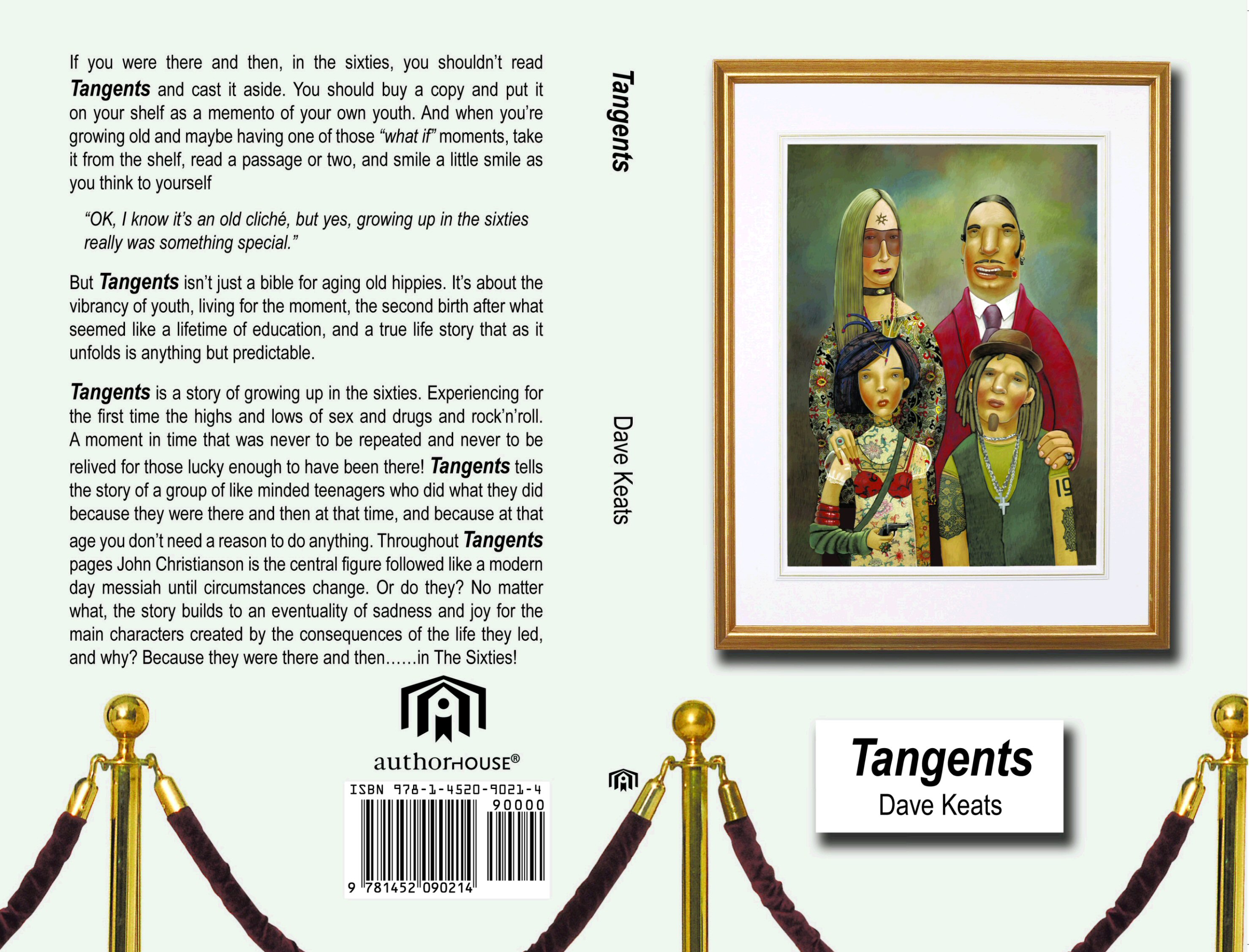 If you were there and then, in the sixties, you shouldn't read Tangents and cast it aside. You should buy a copy and put it on your shelf as a memento of your own youth. And when you're growing old and maybe having one of those what if moments, take it from the shelf, read a passage or two, and smile a little smile as you think to yourself
OK, I know its an old cliche, but yes, growing up in the sixties really was something special.
But Tangents isn't just a bible for aging old hippies. It's about the vibrancy of youth, living for the moment, the second birth after what seemed like a lifetime of education, and a true life story that as it unfolds is anything but predictable.
Tangents is a story of growing up in the sixties. Experiencing for the first time the highs and lows of sex and drugs and rock'n'roll. A moment in time that was never to be repeated and never to be relived for those lucky enough to have been there! Tangents tells the story of a group of like minded teenagers who did what they did because they were there and then at that time, and because at that age you don't need a reason to do anything. Throughout Tangents pages John Christianson is the central figure followed like a modern day messiah until circumstances change. Or do they? No matter what, the story builds to an eventuality of sadness and joy for the main characters created by the consequences of the life they led, and why? Because they were there and then in The Sixties!
And .................... Below find a copy of the publishers flyer to advertise said book with a few words about your modest host for this page (along with 188 more in Tangents).
Dave Keats was born in the fifties and raised in the sixties. With an uncanny knack of being in the right place at the right time it put him in the perfect position to pursue his true love of music, whilst experiencing first hand what it was like to eat with, drink with, get stoned with and talk to his peers. From Eric Clapton to The Rolling Stones, Queen and Led Zeppelin he met some of his idols in a relaxed atmosphere away from the humdrum and limelight of the big time. Be it jamming with a rock god in his living room or seeing the greatest live act in the world playing to few more than a hundred people in a bar in Ibiza, Dave Keats has had his moments.
Born in London and moving at an early age to the South Wales shipping town of Newport, his childhood existence and youth were of no significance until he left school and met John Christianson. Through his association with John, Dave's life was to change in a dramatic way. Doors were to open that he didn't know existed until then, and in the following five years he acquired a lifetime of memories that resulted in Tangents. It was the age of flower power and hippies and experimentation in every aspect of life if you were of that certain age, and Dave Keats was.
His late teens were to see him try his own hand in the music business and in the next three decades he would write and produce over a thousand songs that ranged from rock, pop, reggae, ballads, comedy, dirges and any other genre of music that you wish to mention. But whilst living the dream we all have to face up to reality, so while the excesses of youth were claiming victims around him he backed into the shadows, retiring to the tranquility of the Channel Islands where he continued to live until retiring to the sunnier climate of Goa in 2014. Dave Keats has lived a full and exciting life of which he's decided to share a little of it with you here. Not selling his soul or sensationalising on experiences through associations with famous acquaintances, but giving you a peek into his life of love, betrayal, ecstasy and tragedy, or the self inflicted abuse to his body and mind, and what it was like to be there and then, in The Sixties
If you want a sample of Tangents, I had to select an excerpt of no more than five hundred words as it is, with nothing added or taken away. This in turn could then be used for promotion or whatever publishers do with their client's work. I decided to keep it simple and selected only 350 words. Here's my selection.
I retired to the kitchen with Magdalen and that's where I met Alice Ormsby-Gore for the first time. Alice was the daughter of Lord Harlech who, until he retired in 1965 was the Ambassador to the Washington. The position had brought him very close to the then President John F Kennedy. That close that he was a pallbearer at the President's funeral two years before his retirement. Following his retirement Lord Harlech was to become a television executive who founded HTV and was also the president of the British Board of Film Classification.
In a very short space of time I was to learn of a lot of similarities between Alice Magdalen and me. Like us, she was raised on a farm in Wales, her second Christian name was Magdalen, I was born on the Fifth of April 1950, and she and Magdalen were born on the Twenty Second and Seventeenth of the same month in 1952. She, like Magdalen had recently inherited a step mother when their fathers had remarried and I'd had a step father from a very early age and, here's a really spooky one that we obviously didn't know at the time. Alice was to die of a heroin overdose twenty-four years later on Magdalen's forty-third birthday.
Alice was the current boyfriend of Eric Clapton who I was also about to learn we would be meeting again that day. She was at Jimbo's place to score some heroin for him as like Eric she was addicted to it, but at that time I liked to think of her's as a dignified addiction if such a thing existed. What I mean is in Eric's time of his addictive needs Alice would give him her share of the drug and replace her urges by getting absolutely paralytic on vodka instead. I was somewhat amazed to hear all those years later that the drug was to kill her after all the bad influences around her had cleaned up. But that was then and this is now and there was no need for anybody to go without anything.
Where to buy Tangents if you can't find it listed
If you Google Dave Keats and Tangents it's the second listed so you can purchase it direct from the publishers which is the cheapest way but it's probably easier to get it from Amazon and be done with it. I've only just found out after discussions with the publishers that listing the works of an unknown author in book stores can take up to 30 or in extreme cases 45 days which I'm not happy about but you have your starter for ten with the publishers and Amazon. Should all else fail, quote the book reference ISBN: 9781452090214 or as an absolute last resort:
Take a large tumbler, several average sized ice cubes, four large shots of vodka, 250ml of fresh orange juice, mix all ingredients in the tumbler, drink in one gulp, and think to yourself "I'm too drunk to read in any case" and go to bed to sleep it off.
With that, the only thing I have to say is happy reading (or drinking), and if you don't tell your friends, buy them a copy (or a drink) instead.
But never mind that. If you've read this far your reward for being so dedicated is


a link to the whole book


free on this site.
First publication November 9th 2010
If you want the paperback it's available at:
Amazon, W H Smiths, Waterstones and over 27,000 other outlets worldwide.
Quote ISBN: 9781452090214 when inquiring.